Last week Learning Landscapes Design completed two design workshops with Clatskanie Elementary School. We surveyed students and teachers to understand how the existing playground was working, or not working. Then we envisioned how the new playground space might look and feel. The local paper picked up the story and put it on the front page!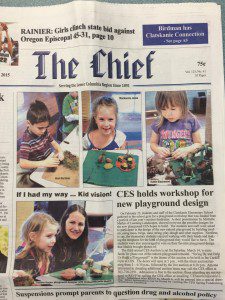 Much of the student playscape design workshop consisted of kids busily building models and talking about design with their friends. Each student built a model from natural materials, had a chance to build in the sand bins, and voted on their favorite imagery and play ideas.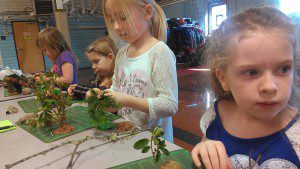 The group of kindergarten to 6th grade students was amazing. Their ideas were well thought out, and they were really responsive. The workshop was offered as a reward for good behavior throughout the school. I think my favorite part was when we started looking over the possible play area images. The room was full of gasps! and ohhhh's! The students could finally see that their asphalt fill playground could one day be a varied and fun space for play, learning, and relaxation.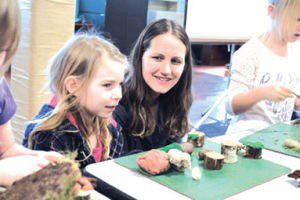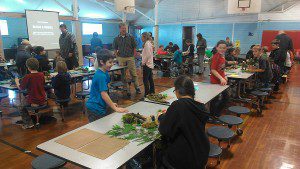 Student playscape design workshops are at the heart of what we do. Play is a universal right of children. But we know every group of kids and every school uses their play spaces very differently and has different existing issues to address. The workshops are our time to really listen to the kids and see what the current site issues are in their eyes. Then they help us envision and frame the vision for the new playscape.